Susan's Garden
Susan's Garden is a very special spot that celebrates the lives of breast cancer Survivors and Co-Survivors and honors the memory of loved ones. Purchase a pink or white tulip and decorate it with a personal message, and, on Race Day, they will blossom into Susan's Garden.
Pink tulips pay tribute to Survivors, those who are battling breast cancer, and those whom we have lost.
White tulips honor Co-survivors (a family member, a friend, or anyone who has been there for someone battling breast cancer).
All tulips are $15.00 each and may be purchased online when you register, or complete Susan's Garden Form (one per form per tulip) and mail or bring your payment to:
Susan's Garden
c/o Komen Northwest NC Race for the Cure
1106 Burke Street
Winston-Salem, NC 27101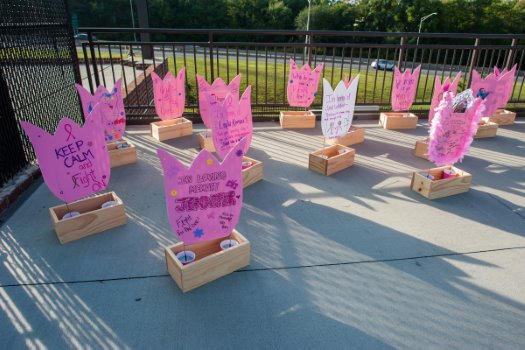 Susan G. Komen Northwest NC Race for the Cure Presented Locally By: