Your generosity is a vital part of our fundraising efforts. Donations to the Komen Race for the Cure are tax-deductible and support local breast cancer education, screening and treatment programs right here in our community.
Donate to a Participant or Team: It's easy to make a donation directly to a Race participant or Team. Use the search below to get started.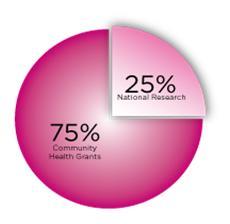 Where Does the Money Go? Up to 75% of the net proceeds raised through the Komen Race for the Cure stays right here in our local community to fund breast cancer programs and at least 25% supports Susan G. Komen's national grants program to fund research.
Visit our local grants page and read more about how the money you raise is helping women in our community.
If you have collected donations, you may bring them to the registration tent on Race Day, or mail them to:
Susan G. Komen® Northwest NC
Race for the Cure®
1106 Burke Street Winston-Salem, NC 27101
What to keep in mind…
$50 could help provide:
Transportation to/from treatment or a doctor visit

Co-payment assistance

Post-mastectomy bra

Translation services for language barriers during a doctor visit

Child care for a woman who will be undergoing a chemotherapy infusion

Informational products about breast cancer, risk, early detection and screening
$100 could help provide:
Will your workplace match gifts?
A great way to increase your gift is to have your employer match the gift funds! Gift verification paperwork may be mailed to the address below!

Susan G. Komen Northwest NC
1106 Burke Street
Winston-Salem, NC 27101

Fundraising for Race will remain open through Friday, October 30, 2015 and all funds raised will count toward your individual and/or Team totals! Since 2000, our Affiliate has funded over $5.5 million in local grants.

PLEASE help us track your donations and thank those for their generous gifts by attaching a Fundraising Form to your mailed donations.
Susan G. Komen Northwest NC Race for the Cure Presented Locally By: